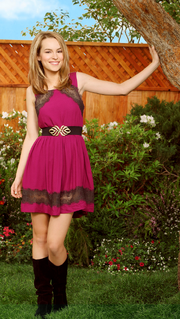 Teddy Duncan is the main protaganist of the 
Disney Channel
original comedy,
Good Luck Charlie
. At the age of 18, Teddy is almost the same age as 
Jessie Prescott
 and is almost done with high school. Teddy plans on going to 
Yale University
after high school. Teddy is portrayed by American actress and singer,
Bridgit Mendler
.
Personality and Appearence
Edit
Teddy is shown as a fun loving, bubbly 18 year old. She cares deeply about her sister Charlie and started making video diaries for her to show her about her life as a teenager. Teddy is the second oldest of five children and is very embarrased by her chaotic family, but loves and cares about all of them very much. She is shown to argue with her brother PJ alot in Season One, but she cares about him alot and has shown hints about it throughout the series. She is very much like Ally Dawson from Austin & Ally and Rocky Blue from Shake It Up and loves to study and read and is a rule follower, but it bothers her alot when people tease her about as seen in the episode "Ditch Day", when people started calling her G.G (Goody-Goody). She has a best friend named Ivy and has two new friends that were introduced in the show's Second Season, Vonnie and Kelsey. She is usually seen wearing a pair of animal print boots, long, flowing dresses and shirts, and bright and unique jewlery. Teddy has curly, dirty blonde hair, light brown eyes, and fair light skin. In Season 3, her hair is noticibly shorter and straighter.
Relationships
Edit
Spencer
In Season One, Teddy started dating a boy named Spencer. They shared their first kiss in the episode
"Dance Off"
, and had a very close relationship. In the episode
"Girl Bites Dog"
, she discovered that Spencer was cheating on her,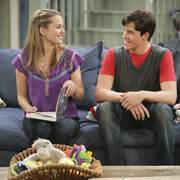 causing her to become heartbroken, break up with him, and smash a piece of pie on a stick in his face. In the episode
"Teddy's Broken Heart Club Band",
Teddy is extremely heartbroken and in a funk about Spencer. She and Skyler (The girl who Spencer cheated on with Teddy) meet up and write a song about Spencer, dissing him, to post online. In the episode
"Can You Keep A Secret?"
Teddy realizes she still has feelings for Spencer and they get back together. In the episode
"All Fall Down"
, Teddy and Spencer break up again when Spencer gets the opportunity to go to college early and leaves Denver to go to Boston and attend B.I.P.A (The Boston Institute of Performing Arts). Teddy and Spencer are still friends and communicate via. video chat, as seen in the episodes
"All Fall Down"
and
"Doppel Date".
Spencer is now dating a girl who looks almost exactly like Teddy, the only difference is that she has short black hair and a heavy accent, which is probably his way of coping with the breakup.