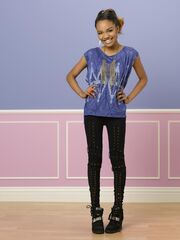 Chyna Parks is the main protaganist of the 
Disney Channel
original comedy
A.N.T. Farm
. She was the star and leader of Webster High's Advanced Natural Talents Program in the first two seasons, A.N.T for short. Chyna's talent is the ability to play many different instruments, the triangle being the only instrument she can't play. She is also an amazing singer, blowing people away with her big, soulful voice. On her first day at Webster High, she wowed students with an amazing violin performance, as seen in the episode 
"TransplANTed".
Her friend Fletcher has had a huge crush on her since the pilot episode,
"TransplANTed".
She has a brother named Cameron, who was a main character in the first two seasons. She now attends Z-Tech, a boarding school founded by Zoltan Grundy and lives with Olive. Chyna is portrayed by American actress, singer, and songwriter
China Anne McClain
.
Personality and Appearence
Edit
Chyna is a very adventerous girl. She is very stylish and often thinks up schemes that get her and her best friends Olive and Fletcher into trouble. She has some of the same qualities as CeCe Jones from Shake It Up. Regardless, Chyna always finds a solution and is a great friend. She is very kind, sassy, funny, and a little naive. Chyna has dark brown hair with hazel nut highlights, dark brown eyes and light brown skin.
In the episode "SignificANT other", she briefly dated Fletcher.
Her clothes consist of bright color patterns, studs, and glitter, colorful jewlery and hair accesories, and brightly colored footwear.
She now has bright, hazel-nut highlights, something she didn't have in the first two seasons.
She lives in the same room as Olive, one of her best friends.